Carl Alberg designed a custom wooden racing yacht named Katuna. She was built by my father and uncle, William E. and Eric J. Simms at Simms Brothers, Dorchester, Mass. in 1948. She was built for Mr. Gilbert Verney of New Hampshire. She won many races.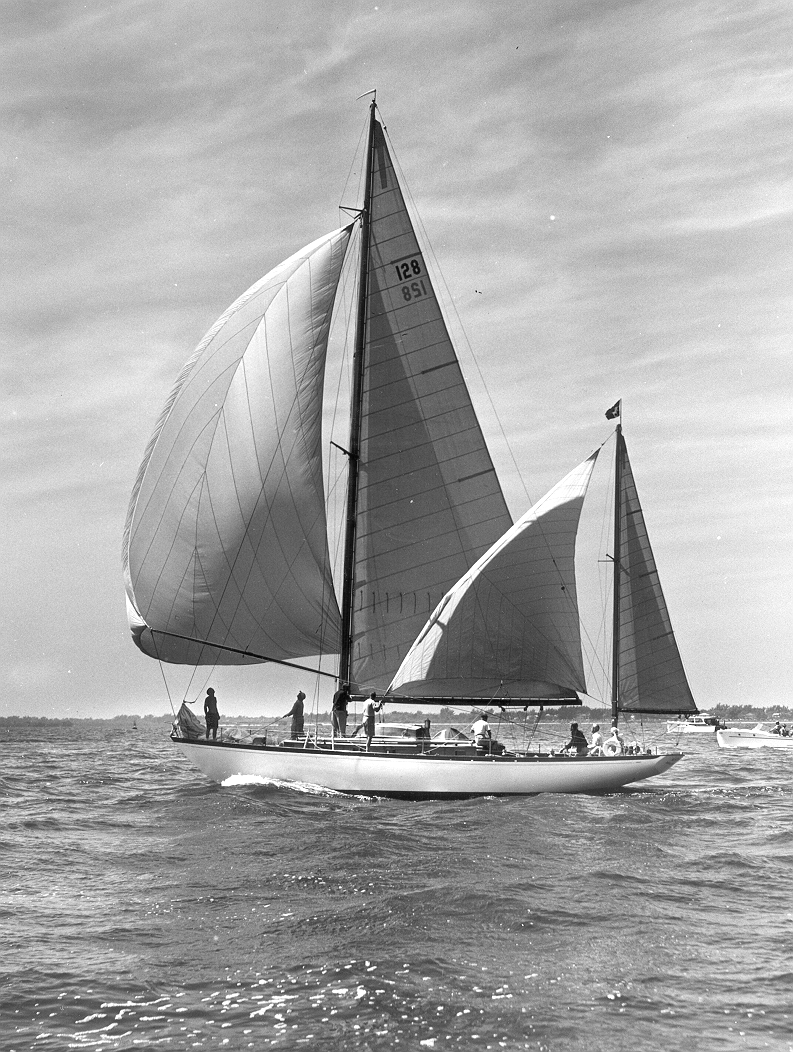 INTO THE BRINEY - Goes Katuna, Gilbert Verney's 52-foot yawl, seconds after the new craft was christened by Mrs. Verney at Simms Bros., Dorchester yard. The beautiful boat which will sail and race in southern waters this Winter was designed by Carl Alberg. [from the Boston newspaper]
The Simms Brothers Boat Yard opened in 1933 on Freeport Street, Dorchester, Mass. Many Navy vessels and yachts were built there before the property was acquired, in 1957, by the Department of Public Works to build the Southeast Expressway.
---
This Old Boat by Don Casey

Subtitled "turn a rundown fiberglass boat into a first-class yacht on a shoestring budget," this book is the best introduction I know boat maintenance for the new or prospective owner of a "modern classic" sailboat. Starting with guidelines for selecting a boat, Casey proceeds to fiberglass repairs, cabin and deckwork, spars and rigging, boat equipment, woodwork, electrical, plumbing, refrigeration, painting, canvas work and sails. All of this is described in clear, simple terms perfect for the inexperienced. This is the book that taught me fiberglass work. But don't let it fool you; this book is appropriate for experienced boatowners, too. I still refer to it.