Serenity, Watusi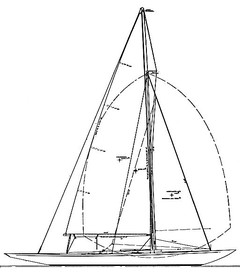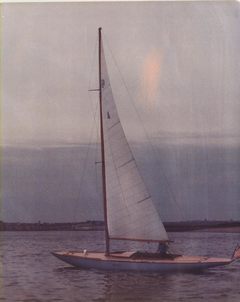 I have been researching a sailboat my father owned at Duck Pond, Marblehead,Mass. during the late 1970's. It was a 38' wooden racing sloop designed by Carl Alberg after WWII. Perhaps you would consider adding this boat to your database. Attached are several photos of my father's boat, the Serenity (previously named the Watusi) and a drawing. I have the bill of sale. I do not know what became of her since 1980. Thanks for your efforts.

My Dad, Bob Crowley, at the helm, fulfilling a dream...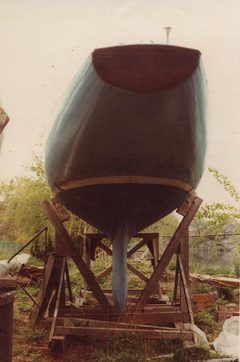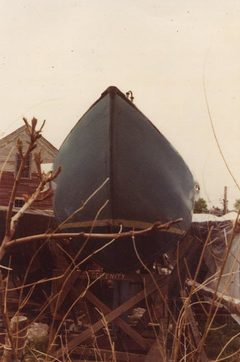 In the cradle... Beautiful lines...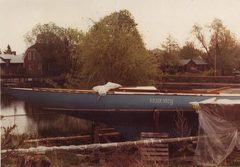 My brother Glenn at a sanding and paint session about 1977.

37.9 ft, 45ft mast, 7ft beam, 3600 lb keel and fast...
---
Eclipse, Chimaera, Woofie, Nike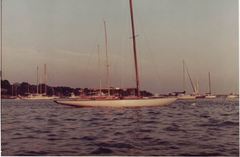 My boat, the #25 boat, was built in 1947 for Bradley P. Noyes by his father Harry Noyes who owned the Quincy Adams Shipyard and started the Tioga class. Originally she was named Chimaera, later Woofie and Nike. I bought her in 1978 from Bill Price and named her Eclipse.
A number of them were at Redd's Pond in Marblehead, when not in use, mine included.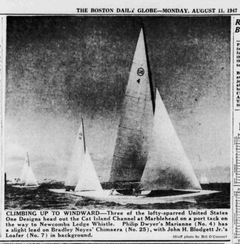 You can see the boats racing in The Eastern Yacht Club--A History from 1870 to 1985 by Joseph E. Garland. (page 236 by printed page numbers, 256 by pages of the PDF)
Here is a clipping from the Boston Globe 8/11/47, p6, showing Bradley Noyes sailing the #25 boat.
---
Scott Wallace's Good Old Boat article