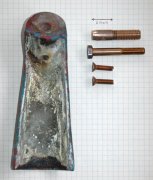 The rudder shoe fastens to the bottom of the aft end of the keel. It supports and steadies the bottom of the rudder. It is mounted (generally) with a 3/8"-NC16 x 2" hex cap screw from the aft end and two 1/4"-NC20 x 1" flat head machine screws from the sides. These are screwed into holes tapped into the fiberglass.
The rudder pin which fits into the socket of the shoe has been fabricated in a number of different ways by Whitby. Quite often it's a headless threaded bolt that's screwed into a tapped hole in the end of the lower rudder post. On Calypso, #543, the lower rudder post was a length of 1" diameter naval brass that had been turned down to 1/2" at the end to form the pin. When that corroded away, I (or rather Doug Townshend did it for me) drilled and tapped for a 1/2"-NC13 bolt. Many of the earlier boats already had such an arrangement from the factory. The picture shows a 1/2"-NC13 x 2" carriage bolt or hex cap screw with the head cut off to form the pin. On another boat, where the hole in the shoe had worn, I've used a 5/8" bolt, instead.
All of these fasteners should be bronze (preferably silicon bronze). See the article on crevice corrosion for the reason to not use stainless steel. I also recommend, as Bruce Rankin recommended to me, that you bed the rudder shoe with 3M 5200 caulk. This is very adhesive stuff, and you don't want the rudder shoe to fall off. When you go to remove it for inspection or replacement of the pin, just heat the shoe with a propane torch and the caulk will soften.
Finding appropriate fasteners has become rather difficult. The two larger bolts should not be fully threaded, but should be shoulder bolts, as shown. Most places seem to carry only imported, fully threaded bronze fasteners. I found the bolts I needed at Jamestown Distributors, but they weren't cheap--about 5 to 6 times more expensive than the fully threaded variety.
---