The newer boats with the interior lining have a stuffing box on the rudder post, like the propeller shaft stuffing box but a little larger. (The older boats have a fiberglass tube that extends above the water line and donít need a stuffing box.) This stuffing box is a simple thing, but not easily reached for tightening or repacking. While lying on my back in the lazarette, I could get one arm under the cockpit sole and reach the stuffing box, but I couldnít see what I was doing and I couldnít get enough leverage to break the lock nut free. So, I lived with a small leak.
The better solution, suggested by both Jim Davis and Jim Mennucci, is to cut an access under the cockpit sole from the port cockpit locker. This turned out to be a pretty simple job.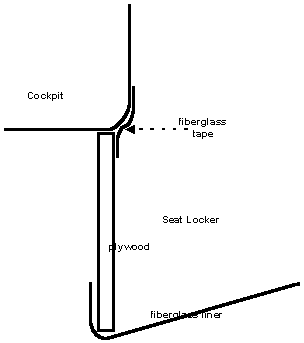 There is a plywood bulkhead at the inboard side of the seat locker, underneath the cockpit sole. This plywood is glassed to the cockpit with fiberglass tape along the top edge. At the bottom, itís riveted to the liner forming the bottom of the seat locker.
I cut the plywood in two, making a vertical cut at the after edge of a rectangular opening found approximately at the center of the upper edge. This cut took a little care, as I have a polyethylene gas tank mounted under the cockpit sole.
Then I pried the fiberglass tape free of the plywood. This was quite easy, as most of the tape had already broken its bond. I drilled out two rivets holding the bottom edge of the plywood to the fiberglass liner. I also found that the was a little fiberglass tape holding the liner to the plywood near the cut I made, but this was easily broken free. With a little persuading, the aft piece of plywood was removed.
I took the opportunity to neaten things up a bit. With a sanding drum on the Dremel tool, I smoothed all the fiberglass edges, beveling them a little. I also rounded the corner at the forward end of the fiberglass tape and smoothed a few other rough spots I found.
With the aft end of the plywood removed, I can easily reach the rudder stuffing box and adjust it. After making the adjustment, I replaced the plywood using 4 wood screws through the fiberglass tape into the plywood at the top edge, and 4 wood screws through the plywood into the fiberglass liner along the bottom edge. It will be easy to remove again for access in the future.
---