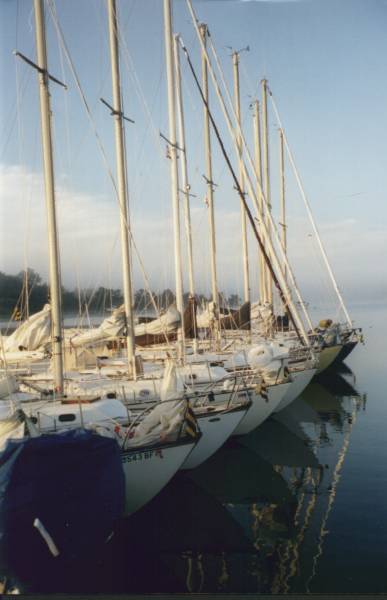 Now, I know this doesn't look like a race, but it is. More precisely, it's a picture of the Alberg fleet rafted in Queenstown the morning before the race back.
In the 1960's, the Alberg 30 was THE hot racing boat and it was not unusual to find 20 or 30 boats on the starting line. The numbers are much lower today, but the Alberg 30 is still the most active Cruising One-Design class on the Chesapeake Bay. Mike Lehman took up the challenge to get "twenty boats in Queenstown" in the year 2000. Well, fourteen boats started the race to Queenstown—a bit shy of the goal but well over the average 7-boat start.
Many of these boats were raced by self-described cruising sailors. (Notice the roller fuling genoas!) Some of the boats were raced with just two people on board. OK, so both races were won by racing boats, but the cruisers had just as much fun. And, at Love Point, just before the downwind leg in the Chester River, one husband-and-wife double-handed cruising boat found itself in front of the racing boat that wins most of the silver, much to their chagrin. (Of course, this situation didn't last long, but the bragging rights are good forever.) This is Cruising One-Design racing at its finest!
This photo was taken by Mr. James Klemstine and used by permission.
In the end, 14 boats started and 9 finished the race over and 12 boats finished the race back. There was a good party in between.
---
South: The Endurance Expedition

Shackleton's near-fatal journey to the Antarctic has received a lot of press in recent years. This is Shackleton's own account—quiet, understated, and riveting. It also describes the travails of the Aurora expedition, intended to lay the groundwork for Shackleton on the other side of the continent.

(Note: commissions earned from this link help defray the costs of this website)