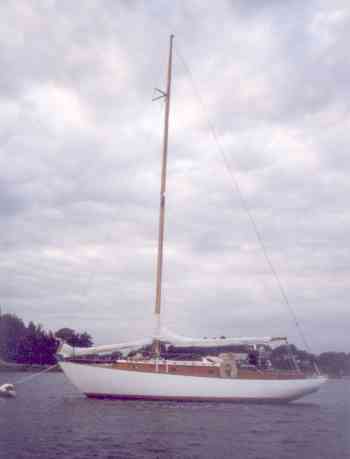 The photo is of Alestra, nee Venture IV, an Alberg designed 30 ft sloop that was built by Graves Yacht Yard in Marblehead, MA in 1960. She had a plate identifying her as hull No 762.
At the time I had acquired her, I had, the year before, sailed a glass Alberg 30 from Bermuda to San Juan, and there was an incredible "feel" of a like boat. My cockpit was 2' longer than the glass and the stove and icebox were reversed, but to me it felt like the same boat, perhaps just a family resemblance, as I seem to remember that the A-30 was a commissioned design.
More of the story:
---
Cruising the Chesapeake: A Gunkholer's Guide

My favorite Chesapeake Bay guidebook. While it mentions marinas, it concentrates on anchorages—the kind of places I prefer to spend my time. And in addition to listing shore facilities, it rates each location for Beauty/Interest and Protection. This is the guide you need to really cruise the Chesapeake Bay—a smorgasbord of small creeks and coves.