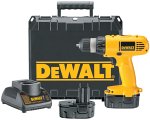 I'm very fond of my DeWalt DW928K-2 14.4-Volt 3/8" cordless drill. This unit has lots of torque and can go a long time on a charge. And it comes with two batteries, so you can keep working while it charges. It outperforms every corded drill I've owned. I bought mine after an ordinary drill started smoking on the second hole when I was using an auger bit through 2x10 rafters. This unit handles it with ease.

The fact that it's cordless is a real boon when I go to do work on the boat. Have you ever gotten the extension cord wrapped around you when you're stuffed into a locker trying to reach your work? That's a thing of the past. Plus you can easily work at the top of the mast or out on the mooring.

This drill has a nice balance and isn't too heavy. It can be set on the slow range with the torque clutch eased up and used as a cordless screwdriver.

I wouldn't bother with lower voltage cordless drills, though the 12 volt one is probably OK. Of course the DeWalt DW929K-2 18-Volt 3/8" cordless drill should be fine. I think the 14.4 volt and 18 volt are the tools of choice among building contractors.
Of course, drilling stainless steel and fiberglass is very hard on the drill bits. A basic high-speed steel bit won't last very long. You're much better off with a set of titanium-coated bits or at least a set of cobalt bits so they'll hold up a little while. (Note: I see they have a larger set of titanium-coated bits, but they don't say what sizes and the case is steel and likely to rust on the boat. Still, at this price, it looks like a deal to me.)

For drilling through small pieces of wood, almost any drill bit will do. For heavier drilling, I like auger bits. This set includes sizes 1/4", 3/8", 1/2", 5/8", 3/4", and 1" bits. You'll need a hefty drill, like the DeWalts mentioned above, to keep from stalling when these bits dig in, but you'll drill holes much faster and easier.
---
This Old Boat by Don Casey

Subtitled "turn a rundown fiberglass boat into a first-class yacht on a shoestring budget," this book is the best introduction I know boat maintenance for the new or prospective owner of a "modern classic" sailboat. Starting with guidelines for selecting a boat, Casey proceeds to fiberglass repairs, cabin and deckwork, spars and rigging, boat equipment, woodwork, electrical, plumbing, refrigeration, painting, canvas work and sails. All of this is described in clear, simple terms perfect for the inexperienced. This is the book that taught me fiberglass work. But don't let it fool you; this book is appropriate for experienced boatowners, too. I still refer to it.
---