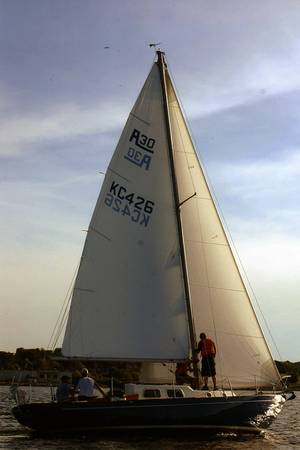 I just put together these two photos, taken many years apart. The cool thing is that both boats, my old beloved Touch Wood and Surprise were shot from the same angle on similar days.
If you shrink the Folkboat picture a little to get them into the same scale you have a wonderful illustration of the basic similarities between the two types, and the lineage of the one from the other is clear.
Touch Wood KC16 was one of the Danish Folkboats Kurt Hansen brought over into Canada when he was first getting into the boat business. Her name then was Zanne and her Danish number was D49. The Danish Folkboat Association list shows her leaving the Royal Copenhagen Yacht Club in '57 and under location reads 'gone to Amerika'. (Don't Canadians just hate that!)
She came to Toronto's National Yacht Club and was bought from Hansen by Pat Talbot - one of the first Folkboats in North America. The direct link to the A30 was the Canadian Folkboat Association's committee of NYC members going back to Hansen and challenging him to come up with a larger successor to the Folkboat; Hansen went to Alberg and our A30 was the response.
I owned Touch Wood from '79 to 99...and as I wrote on the list last winter, got her back in March of this year [2008].
I pine for Touch Wood (she is not is sailing condition now) but one thing that picture does is remind me of why we went to the A30. Yes the Folkboat was closer winded, stiffer, stronger, maybe a better seaboat...but: in the photo Caroline is standing in the companionway with her feet on the cabin sole illustrating only sitting headroom below decks. We never stopped chasing deck leaks. Touch Wood used to leak in her garboards when driven hard in heavy seas. The cockpit was deep enough to stand in waist deep...but was not self-bailing; anything that came in went down through the gratings into the bilge. I grew to dislike groveling on my knees on the stern playing with the outboard. Etc etc
---
South: The Endurance Expedition

Shackleton's near-fatal journey to the Antarctic has received a lot of press in recent years. This is Shackleton's own account—quiet, understated, and riveting. It also describes the travails of the Aurora expedition, intended to lay the groundwork for Shackleton on the other side of the continent.